Electrical repair services require specialized skills, training, and experience. Do you live in an older home and don't know when the last time the electric wiring was upgraded? Maybe you just want to add some solar panels to your home to help save on rising energy prices. Our experienced Hamden electricians can help with all of your home or businesses needs.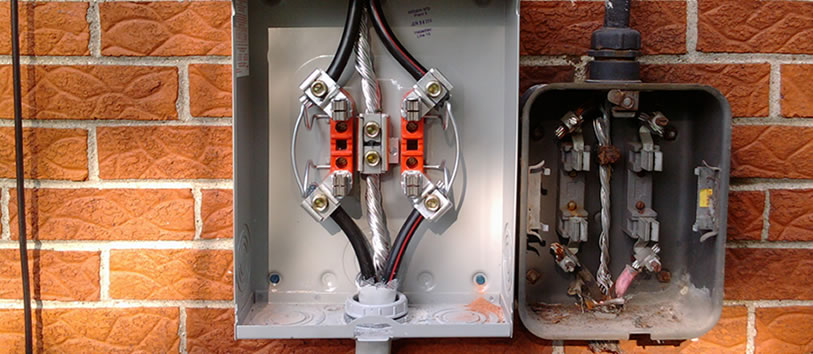 Free Hamden Electrical Repair Estimate
Our team has some of the best Hamden electricians and will be able to diagnose what's wrong, and offer a free estimate and a peace of mind guarantee, knowing the work will be done right, the first time. Your homes electrical problems can be cause for big concern to you and your family, from the possibilities of fires to electric shock from faulty to damaged wiring. Call (860) 469-5004 today or search the internet for local electricians near me and click on our website for a free electrical estimate. Electric repairs are not something to put off for another day, it's definitely the type of repair, where time can be of the essence. Connecticut's Handyman understands that urgency, and can offer a fast and reliable estimate for electrical repair services in Hamden.
Do you have exposed wiring or fuses blowing regularly, or maybe your circuit breakers are tripping a little more often than usual? These are some of the tell tale signs that needs to be fixed promptly by one of our licensed Hamden electricians to reduce the risk of more costly problems in the future, and ensuring you are able to keep your loved ones safe in your home.
From light fixture replacement, to GFCI installation, to electrical troubleshooting, ceiling fan repair, or outlet installation. We have the knowledge and experienced licensed electricians to help you complete your projects. Contact us now to get a free estimate.
Connecticut's Handyman has electricians in Hamden that are here to help whether the job requires rewiring or performing repairs to new construction builds, rely on one of our experts to offer you only our highest quality of work. Call the professionals that your neighbors trust, and rest assured we will get the job done safely, and efficiently.
Electrical Repairs in Hamden, Connecticut
Fix, Repair, Install or Troubleshoot
Backup Generator Installation
Circuit Breakers
Commercial Wiring
Car Charging Stations
Code Violation Repair
Safety Checks
Troubleshooting
Fuse Boxes
GFCI Replacement
Green Electricity
Home Wiring
Industrial Wiring
Lighting Installation
Power Saving Technology
Rewires
Solar Power Installation
---
Fill out our free estimate form or Call (860) 469-5004 to speak to a Connecticut Handyman today.