We are one of the best painting companies that work on projects for a fair cost. We offer over 20 years of experience in all aspects of interior and exterior paint, whether siding, wood, stucco, or brick, to the interior of your home including basement, kitchens, bathrooms, bedrooms and hallways, our team of experts will make your house look new again.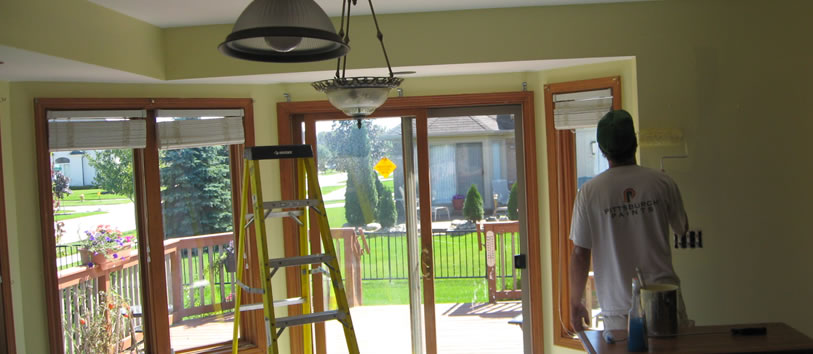 We also specialize in all types of wood staining, from deck staining, to fence staining, and custom jobs such as playscapes, gazebos, pergolas, etc. Our companies professional painters can help you choose what type and color of stain to use depending on your project. Just search the internet for painting companies in Connecticut, then contact Connecticut's Handyman at (860)469-5004 for a free exterior painting estimate in Connecticut. We handle every aspect of the job from pressure washing to ensure there is a nice clean surface for the stain to adhere to, down to the quality finish work. Upon completion, your project would appear like it's brand new again.
Our interior Connecticut house painters can make your entire home look new again! Our professional painters have years of experience, and can makeover your home in a cost effective, efficient manner. From the baseboards, to the ceiling, to all the walls in between, we are fast, and very detail-oriented, leaving a flawless paint job throughout. Whether it's just a single room, such as bathroom, bedroom, to kitchens or dining rooms, or if you're in need of having your entire house painted, we have the professional house painters available for you. Call us today for a free painting estimate to make your home feel new again.
Call Connecticut's Handyman, your best choice when looking for Connecticut house painting companies, to have a home makeover. Reach out to us, and we'll schedule an in home estimate, to give you an affordable price to having your homes exterior looking new again.
Painting Services in Connecticut
Baseboards
Caulking
Color Matching
Drywall Repairs
Earth-Friendly Paint
Exterior
Houses
Interior
Metal Buildings
Molding and Trim
Murals
Prep and Cleanup
Priming
Touch-Ups
Wallpaper
Whitewashing
Wood Staining and Treatment
Painting Service Areas in Connecticut
Counties We Serve
---
Call (860) 469-5004 to speak to the Best Connecticut Handyman, or fill out our free estimate form.