Our some of your chimney bricks missing or falling apart? We have been working with Connecticut chimney repairs for many years and we know they can take on a lot of different meanings. Whether it is leaking, cracked, in need of concrete, mortar, or brick repairs, Our team can help with all of your repairs. Often times, rain water dripping near your furnace is due to flashing repair needed where the bricks meet the roof shingles. Rain can also filtrate through cracks in the crown, which could lead to water getting into a natural fireplace. We can perform the necessary repairs, and stop the leaking that is getting into your home.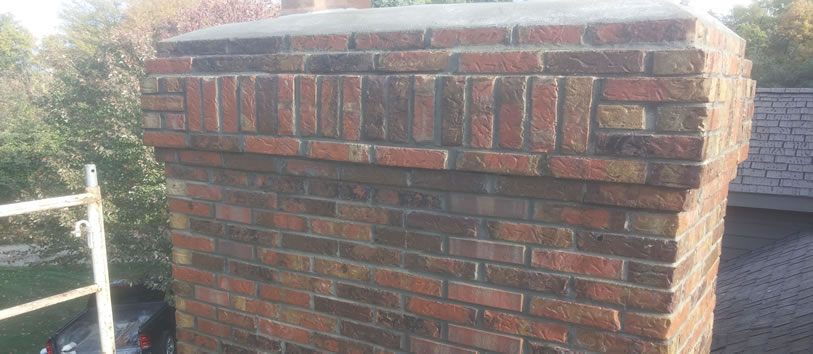 We understand that problems with your bricks can lead to water inside your home, leaving you with chaos inside of your home. That's why we offer quick, affordable services. Whether your chimney is made of wood, brick, or stone, call Connecticut's Handyman at (860) 469-5004, we can provide a free mortar crown estimate in Connecticut, and will ensure the job is done correctly. Don't hesitate. Call us now for your local Connecticut chimney repair expert, and trust that the job will be done right, the first time!
Tuckpointing is a common repair that is needed when you notice the mortar joints in your brick are deteriorating, or seem to be missing. Let us provide an estimate for expert chimney repair in Connecticut. We also offer crown repair and replacement, as well as re-installing blown off caps, or replacing caps that are missing. We are able to diagnose and fix problems related to your flashing, including flashing replacement.
You can also have an annual inspections, so that you can rest assured knowing that your home is in good shape, and your fireplace is ready to be put to use for the winter season.
Chimney Repair Services in Connecticut
Fix, Tuckpoint, Clean or Repair
Caps
Crown Repair
Custom Hearths
Fireplaces
Flue Repair
Inspection
Mortar Repair
New Chimneys Installations
Repair
Safety Checks
Sweeping
Tuckpointing
Washing
Water Damage Repair
Chimney Repair Service Areas in Connecticut
Counties We Serve
---
Call (860) 469-5004 to speak to the Best Connecticut Handyman, or fill out our free estimate form.