A roof repair needed on your home can wreak havoc if not addressed quickly. We are available to help with your homes roof repair today. We know that time is of the essence, when you have water damage in your home. We strive to help customers from start to finish, in a fast, courteous professional manner. We offer guidance and advice, based on our years of experience in the roofing industry. With replacement being one of the most important and costly types of maintenance on your home, you need to know that you have a company that you can trust for a quote. Here at Connecticut's Handyman, we strive to be that trusted company!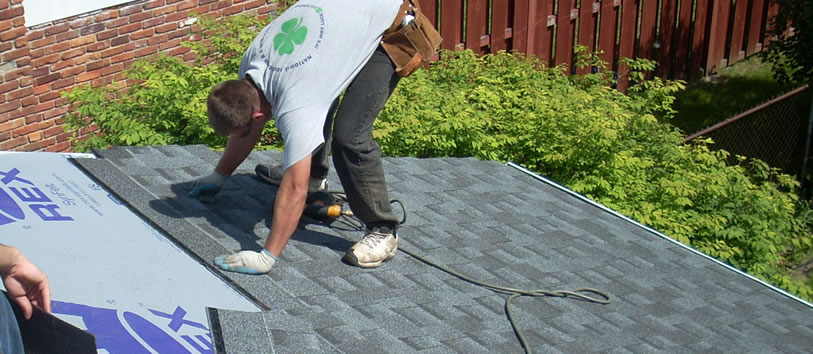 We employ the highest quality of roofers to ensure your new roof is installed with accuracy, to ensure it lasts for decades to come. Our years of expertise, gives us the ability to detect leaks to ensure we're able to give you the best recommendation. We are one of few roofing companies in Connecticut, who will offer roofer repair services, rather than try to convince you that you need a complete replacement. Call us today at (860)469-5004 for a free roofing estimate at your home. We warranty all of our work, leaving you with a peace of mind guarantee.
Replacing the roof shingles vs repair on your home ensures that your home is entirely protected from rain water and ice dams, but it increases the overall value of your home, and adds to your homes curb appeal. Just Google "Roofing Companies in me" then click on our website. When it comes to replacement, you can trust that it will be done right. From the removal and disposal of your old shingles, to new tar paper, ice and water shield, to new vents, flashings, drip-edge, and shingles, We are here to make sure your home is protected from the elements of mother nature. With roof replacement cost being one of the most expensive home maintenance cost, it is important to choose quality durable materials, through a professional roofing companies that offers a Satisfaction Guarantee!
Contact Connecticut's Handyman today so we can provide you with a free roofing estimate, and provide you with the best advice on how to maintain your homes roofing structure.
Roofing Services in Connecticut
Antenna Removal
Architectural Shingles
Asphalt Shingles
Electric Vents
Flat
Inspections
Life Time Warranty Shingles
Material Haul Away
Metal
New Installation
Re-Roofs
Repair
Replacement
Rubber
Solar Vents
Tear Off
Roofing Service Areas in Connecticut
Counties We Serve
---
Call (860) 469-5004 to speak to the Best Connecticut Handyman, or fill out our free estimate form.