Gutters and downspouts are a very important aspect to your home. Essentially, consider your gutters and downspouts, as your outdoor plumbing system. Ensuring that they are clean, and working properly, helps to avoid water backing up and entering your home. They must be able to flow freely to direct the waters flow down and away from the house. Clogs make them inoperable and can lead to long term damage on your home such as rotten fascia and soffit boards, as well as allow water into your foundation, which can lead to thousands of dollars in damage. Have your seamless gutters and downspouts cleaned annually by Connecticut's Handyman and avoid these types of costly repairs! Contact us today for a free gutter repair estimate.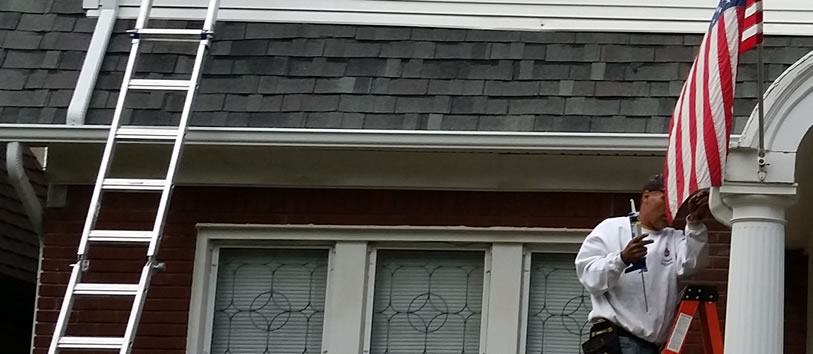 Free Gutter Cleaning and Repair Estimate
Leaking, damaged, or clogged? Whether you need cleaning, repair, or replacement, or installation, Connecticut's Handyman knows the solution! Call us at (860) 469-5004 for a free estimate on how to ensure your home is protected and functioning correctly. We offer seam sealing, miter replacement, downspout repair, downspout strap installation, and re-securing. Need a splashguard, to help with water overflow in certain areas? We can help with that as well. Contact us today to have your gutter eaves evaluated, and to get those repairs fixed before further damage can occur.
We offer seamless aluminum gutter installation, ensuring that your system will not leak over windows or doors over time. Aluminum never rusts, so your new gutter installation or repair can stand the test of time, as well as mother nature. There are a wide variety of colors to choose from when you decide to have seamless aluminum gutters installed at your home.
Leaf guard is a simple solution to avoid cleaning your gutters every year. Contact us to have a free estimate to have the best leaf guards in Connecticut installed at your home.
Looking for something a little more high end, we also provide copper, as well as half-round. Our Connecticut gutter repair experts, can help you decide what type of system is best for your home, as well as downspout placement. Call us today for a free gutter repair estimate.
Gutter Installation in Connecticut
Assemble, Install or Replace
Cleaning
Downspouts
Filters
Helmets
Hoods
Installation
Leaf Guards
Maintenance
Rain Barrels
Rainwater Tanks
Seamless
Gutter Cleaning Service Areas in Connecticut
Counties We Serve
---
Call (860) 469-5004 to speak to the Best Connecticut Handyman, or fill out our free estimate form.